Concrete Investigation
Streval Ltd specialises in Concrete Investigation. This term refers to a complex collection of tests used to determine the condition of your concrete. They assess its strength, determine the levels of deterioration, and approve its suitability for use. 
Testing your concrete regularly, especially when it experiences high levels of foot traffic or damaging weather conditions, is essential to maintain safety standards. 
At Streval, we perform a series of tests using various modern technologies, including: 
Laboratory-Based Material Testing of dust at various depth increments. 
Half-Cell Corrosion Rate Mapping at nodes over defined grids.
GRP Grid Surveys to create 3D maps of buried features.
Ultrasonic Pulse Echo Tomography to image concrete in 3D.
Schmidt Hammers and UPV readings for compressive strength determination.
Diamond core sampling for non-destructive testing.
GPR BSEF (Back Scattered Electromagnetic Frequency) analysis to determine water content.
Carbonation Depth Measurement to BS EN 14630 Standards.
Ultrasonic Pulse Velocity to identify voiding and honeycombing.
We also conduct visual surveys accompanied by crack mapping and measurement.
Concrete Investigation is necessary pre and post-installation of your concrete structures. This ensures the concrete is structurally sound and monitors the natural damage it sustains over time. 
Your concrete may deteriorate, but it's also important to consider the rusting of the reinforced steel within the concrete over time. 
Keep your batches consistent and avoid dangerous situations using Concrete Investigation with Streval Ltd.
Read our blog about Concrete Investigation to learn everything there is to know about all of our services and contact us today to get started. 
Our team will travel to your site, assess your concrete and provide concise reports of our findings to help you determine the right course of corrective action.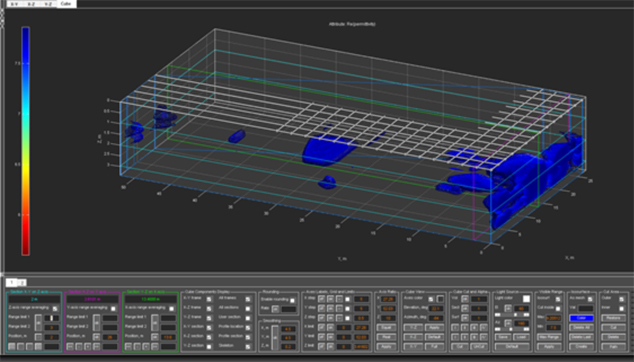 Contact The Experts We are happy to help you with your specific requirements, please contact the office on 01234 819 574.
Get In Touch
Our Concrete Investigation Services
FAQs
What is the purpose of a concrete investigation?
The purpose of a concrete investigation is to determine whether concrete is fit for purpose or has deteriorated too much to provide a structurally sound foundation. Here at Streval, we use various methods to investigate the condition of the concrete, including taking chloride samples, performing ground penetrating radar surveys, and using Ultrasonic Pulse Echo tomography. 
What is a concrete investigation?
A concrete investigation is a process which determines whether construction on a given patch of concrete is safe or hazardous. It entails the use of machinery or simple visual inspection to establish whether a proposed project can proceed or whether you should take further action before receiving approval. 
Who can complete a concrete investigation?
Only experienced structural engineers can perform a concrete investigation. The consequences of approving construction work on a structurally unsound concrete foundation are simply too numerous to risk. Here at Streval, we have a team of experienced and knowledgeable structural investigators, who work closely with external structural engineers, to accurately assess and report on the condition of the concrete. So, if you need a concrete investigation, please don't hesitate to contact us!
38 Mill Street,
Bedford,
MK40 3HD
Expert Advice: 01234 819 574