Concrete Investigation
Streval ltd specialise in concrete investigation. This broad category includes concrete condition assessment, and all of the associated testing related to this as well as one off investigations of failed structural elements.
Concrete condition assessment includes any of the following:
Carbonation depth measurement to BS EN 14630.
Chloride ion depth penetration by taking dust samples at defined depth increments (usually at 25mm increments) to BS EN 14629.
Cover measurements at nodes over a defined grid.
Half-Cell corrosion rate mapping at nodes over a defined grid.
GPR grid surveys of structural elements in order to plot reinforcing detail and to create 3D maps of buried features.
GPR BSEF (Back Scattered Electromagnetic Frequency) analysis to determine increased ground water content, poor concrete compaction, high water content/porosity of structural concrete and many other structural issues.
Ultrasonic Pulse Velocity to determine voiding and honeycombing issues in concrete.
Ultrasonic Pulse Echo tomography to image concrete in 3D in order to size voiding present inside.
Sonreb method of compressive strength determination utilising a combination of Schmidt hammer and UPV readings.
Strength correlation of Schmidt hammer readings with a small representative sample of cores in order to non-destructively assess strength over a large structure.
Visual survey to include crack mapping and measurement.
Delamination survey or hammer tapping to locate areas of delaminated concrete due to corrosion or movement.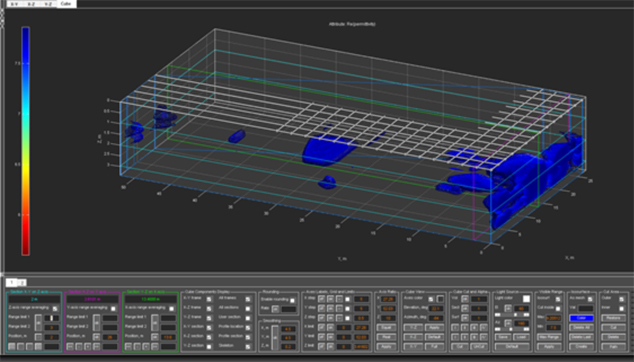 Our Concrete Investigation Services