What is a Coating Inspection?
A Coating Inspection is the assessment of protective coatings on metal structures to determine the likelihood or severity of corrosion. This is a vital process for all external metal assets to prevent deterioration and uphold safety standards. 
In this article, we will answer the question 'What is a Coating Inspection?' detail various testing methods, cover the beneficial properties of anti-corrosive paint, and explain the importance of hiring a qualified Coating Inspector.
What is a Coating Inspection?
A Coating Inspection is a method of Structural Testing & Investigation that employs a series of technical and visual assessments of the anti-corrosive paint used to coat aluminium and steel structures.
Metal naturally deteriorates and oxidises over time, but a protective coating will create a barrier between the metal and external elements. Some of these elements include water, minerals, and chemicals that could hinder the longevity of your structures and encourage collapse.
The Process of a Coating Inspection
Several types of tests are combined to develop a truly comprehensive Coating Inspection. But the primary assessments we utilise here at Streval include Adhesion Strength Testing and Paint Toxicology.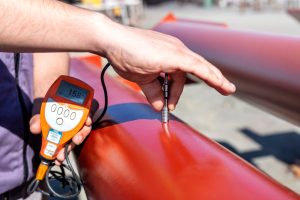 Adhesion Strength Testing
Adhesion Strength Testing involves measuring the resistance of a coating to determine at what specific tension force the coating breaks. During Adhesion Strength Testing, the coating is pulled from the surface to confirm this measurement. 
Paint Toxicology Assessment
Paint Toxicology assessments provide information concerning the resistance of the coating against water, minerals and chemicals. Paint Toxicology is often employed with structures submerged in the ocean to determine whether the coating can withstand prolonged exposure to saltwater and resist deterioration.
These are just two of the tests we conduct here at Streval when completing a Coating Inspection. But there is a selection of other assessments we utilise to accurately assess the condition and evaluate the life expectancy of a coating. 
Some of the other assessments include: 
A preliminary inspection of the condition of the metal

An inspection of visual surface cleanliness

The measurement of current weather conditions and how the coating application may be affected

The assessment of materials

The observation of dry film thickness, re-coat time and coating cure
These procedures will be done by an inspector who will monitor the process before, during, and after the coating is applied.
The properties of protective coatings
The primary benefits of protective coatings are their longevity, durability, and excellent adhesion strength. Anti-corrosive paint is designed to withstand challenging weather conditions, exposure to harsh chemicals, and constant submersion in water without sustaining damage. So, these properties are very advantageous.
Why should you employ a professional?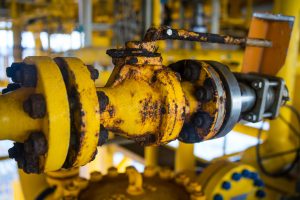 There are some things that only a well-trained eye can identify. And when the stakes are so high, it is essential to hire a qualified coating inspector to achieve a true reflection of the condition and efficiency of your anti-corrosive paint.
Here at Streval, we employ a team of experienced Coating Inspection specialists who will quickly and confidently assess the metal you intend to coat and keep a keen eye on the process to ensure the coating is applied correctly.
So, if you require a Coating Inspection for a pre-existing or new coating, please don't hesitate to contact us at Streval to book a consultation!