What is Non-Destructive Testing?
Non-Destructive Testing is the umbrella term for a series of assessments used to determine whether deterioration has occurred in a material, component or system without causing damage. These materials include but aren't limited to, steel and concrete. 
But what are the types of Non-Destructive Testing? And how accurately can they determine the level of corrosion in a material? These are the questions we'll answer in this month's blog as the Non-Destructive Testing specialists you need.
How Many Non-Destructive Testing Methods Are There?
There are many different types of Non-Destructive Testing your engineer may use. But the six main categories include Eddy-Current, Magnetic-Particle, Radiographic, Ultrasonic, Visual, and Liquid Penetrant Testing.
These categories open the gates to several Non-Destructive Testing Methods specialised for different materials and levels of deterioration. 
For example, if you suspect your subsurface concrete is damaged, an Ultrasonic Test would be most appropriate. For steel, Visual or Magnetic-Particle Testing may be better suited. However, it is often the case that a combination of multiple testing methods provides the most accurate results. 
So, let's delve more into the types of Non-Destructive Testing.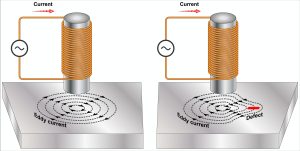 ECT relies on electromagnetic induction to detect flaws, deterioration, and variations in metal. What ECT does is generate its own alternating current signals, which provide a reliable report on the location, size, and number of defects your metal may have. 
ECT is most effective for identifying corrosion damage, thinning, surface and near-surface corrosion, and cracks. As ECT is a Non-Destructive Testing method, your metal won't sustain further damage post-testing.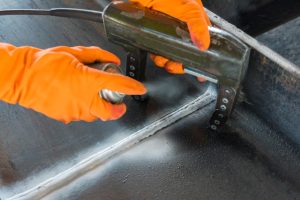 Magnetic Particle Testing
Magnetic Particle Testing uses fluid and magnetism to identify surface and shallow subsurface defects on ferromagnetic materials, including steel, nickel, iron and cobalt. Essentially, a magnetic current is run through the material that is only interrupted by defects. 
When the defect is found, the liquid will seep through it, whether it be a crack, slit, or hole. The liquid can then be electromagnetically located. However, it can be difficult to determine how deep the defect goes due to the particle's tendency to pool on the surface edge of the imperfection. So although efficient at locating defects, this test is often most accurate when paired with other types of Non-Destructive Testing.
Ultrasonic Non-Destructive Testing involves sending ultrasonic waves through a material to test its thickness. Inconsistencies in the thickness of the material indicate corrosion. Most Ultrasonic Tests use a series of short pulse waves in frequencies of 0.1-15MHz, but higher frequencies are suitable in some circumstances. 
Under the most ideal conditions, Ultrasonic Non-Destructive Testing can be as accurate as 0.00004 inches in most common engineering materials.
Visual Testing is a manual technique that doesn't involve the use of machines. It involves simply assessing the material with the naked eye to find cracks, holes, pores, and corrosion indicators. Visual Inspections can be done on-site or remotely using images of the affected material. Visual Inspections are usually the first step before employing machines to perform further, more accurate and in-depth testing.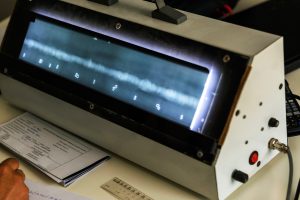 Radiographic Testing is a Non-Destructive Testing method used to determine the condition of welded sections of piping, pressure vessels, storage containers and various structures. The test part is placed between the radiation source (x-ray or gamma ray) and the detector. The density and thickness of your material are determined by the rate at which the radiation passes through it. 
Several imaging methods are used in conjunction with Radiographic Testing, including Film Radiography, Real-Time Radiography, Computed Tomography, Digital Radiography and Computed Radiography.
The type of imaging method used will depend on which Non-Destructive Testing specialists you choose.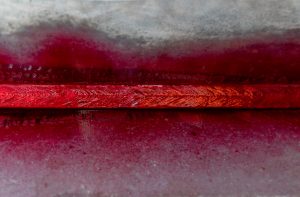 Liquid Penetrant Testing is an effective Non-Destructive Testing method that produces surface indications to help locate surface flaws in many types of materials, including metals and their alloys, as well as particular plastics and occasionally ceramics. 
Similarly to Magnetic Particle Testing, a liquid is applied to the surface of the material which seeps into the defect. However, unlike Magnetic Particle Testing, the depth of both incredibly small and relatively large cracks, pores and splits can be identified easily. 
Firstly, the area will be cleaned thoroughly, as the liquid penetrant cannot perform properly on particularly dirty surfaces. Then, the penetrant is dipped, sprayed or brushed onto the surface of the material and the excess is removed. 
Once the excess penetrant is removed, a powdered developer is applied, which draws the penetrant out of the crack to produce a surface indication, which allows for the inspection of the test surface, either visually or through a camera. Once the findings have been documented, the area will be cleaned again. 
Liquid Penetrant Testing is an extremely simple, highly sensitive Non-Destructive Testing Method that is fast, efficient, and accurate, indicating the relative shape, size and depth of a flaw. 
Although we don't offer Liquid Penetrant Testing here at Streval, we can still help.
How Can Streval Help With Non-Destructive Testing?
Here at Streval, we conduct a number of highly accurate Non-Destructive Testing techniques to provide a comprehensive overview of the condition of your materials. Our engineers are highly skilled, experienced and knowledgeable in what to look for and the advice to give to remedy the problems your materials are having. 
Learn more about our Non-Destructive Testing services at Streval and contact us now to book your consultation so we can discover more about what you need. 
Make your site safer with Streval.